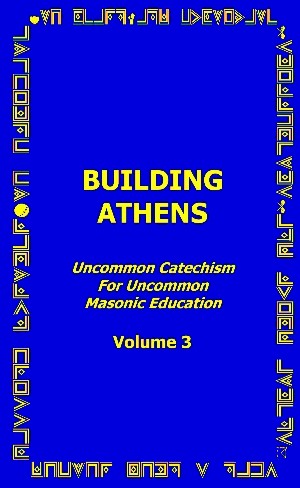 Building Athens
Uncommon Catechism for
Uncommon Masonic Education
VOLUME 3




Table of Contents 

Preface	                                      iv
Catechism Primer                               v
Introduction                                   8
     I.	The Attic                             16
        The Attic Catechism                   18
    II.	The Logos                             33
        The Logos Catechism                   35
   III.	The Proper Pass                       50
        The Proper Pass Catechism             51
   IV.	The Strong Art of Letters             64
        The Strong Art of Letters Catechism   65
    V.	The Truth-Filled Practice             79
        The Truth-Filled Practice Catechism   81
   VI.	The Language Adornment                94
        The Language Adornment Catechism      95
  VII.	The Numeric Character                109
        The Numeric Character Catechism      110
 VIII.	The Measure of Man                   125
        The Measure of Man Catechism         126
   IX.	The Patterns in Time                 140
        The Patterns in Time Catechism       141
    X.	The Timing in Space                  156
        The Timing in Space Catechism        157
   XI.	The Form                             172
        The Form Catechism                   174
  XII.	The Raised Question                  188
        The Raised Question Catechism	     190
Attic Salt	                             202
Resources and Footnotes	                     203



Building Athens- Uncommon Catechism for Uncommon Masonic Education - Volume 3
Available NOW for Only: $25.00 US!$18.00 US!*
(*Limited Time 28% Discount Savings Offered Direct from the Author)

This is a must have book for Fellow Craft Masons and all those Masons who mentor them.
Check out the Overview. !
Check out the inside for a peek!
Check out the Building Hiram/Boaz Blog!
Check out the Reviews!
Shipping as of June 1, 2010!
International orders may require additional shipping costs not automatically calculated by the checkout cart.

Click here to order the entire Building Series Book Set with significant savings off the Cover Prices!